At ODRATEK, the focus of all of our activities is promoting and sustaining our cultural heritage with apps and software designed to serve humanity. ODRATEK is the digital arm of the non-profit, peer-reviewed classical record label Odradek Records.
To date, our most ambitious project has been Neumz, the biggest recording project ever completed and the only digital resource combining all of the materials necessary to follow the entire liturgy of the Roman Rite. Neumz helps enrich prayer lives and allows people to learn about the wealth of their tradition.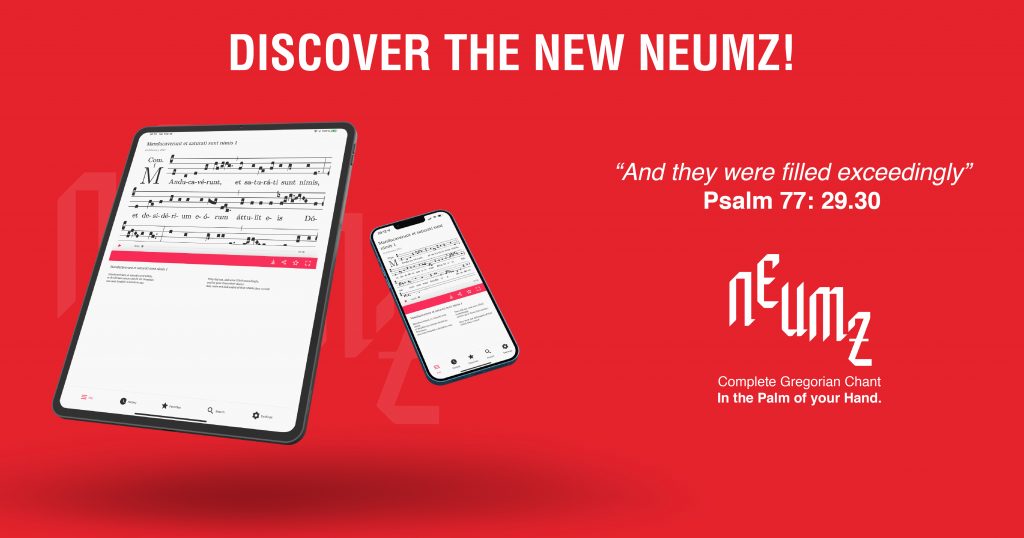 Together with the sisters at Abbaye Notre-Dame de Fidélité in Jouques, we are thrilled to announce the most significant update to Neumz since the launch of our mobile apps, with powerful new capabilities and intuitive features. With a beautiful new user interface, offline listening, and customisable notifications allowing you never to miss an office, your participation in the daily liturgy with Neumz has never been more engaging.
• New User-Interface!
The beauty of the chants has a new home. We hope you will enjoy the new layout, which gives more space to the scores and texts while improving usability on mobile devices. Playback controls are located underneath the score. The red ribbon divides the score from the texts and allows you to see additional info, download, share, save to favourites, and toggle full-screen mode for the score. Swipe right from the left side of the screen to open the calendar drawer and change the liturgical day, office, and chant.
• Download
Download individual chants, entire offices, or entire liturgical days for offline listening. Look for the downwards pointing arrows. Optionally toggle on "Offline Mode" in Settings to restrict Neumz to play only downloaded content. Downloading on wifi and enabling this option will ensure that Neumz does not unintentionally consume mobile data. Manage downloaded content in Settings to free up space on your device.
• Bells
Want to live the liturgical day together with the Sisters? Toggle on Bells to notify you of the beginning of each office. Enable all, or select one by one for the services you wish to follow.
• History
Are you quickly flipping between two chants? Want to find that beautiful chant you just listened to? The new "History" tab allows you to view the chronology of recently listened-to chants.
• Search
Snappy search by Chant Title, Latin text contained in a chant, Liturgical Day, and Cantus ID, the internationally adopted catalogue system for monophonic chant melodies. We have also added a new Chant Index for your convenience. Browse by chant type and scroll alphabetically for a chant as you would your address book.
• Favourites
Your favourite chants live here for easy reference! Click on the star of any chant to add it to your favourites.
• Share
Three clicks to share a chant on the platform of your choice! Look for the buttons with three connected circles.
Other things we have in store for you:
Precise syllable-by-syllable-level sync of audio to text – scores will perfectly align with audio, and the Latin text will progress word by word with the audio. Bad sync is the number one complaint among our users, and we have found an incredibly accurate solution. We need some time to implement it and update our database, but we will be working on this next!
Lossless master quality audio
Office images. Offices will load with a prayer card with sacred imagery from the Abbey of Jouques to help focus the target of the imagination before the first prayer begins.
and much more! Keep following for future updates.
We think you'll agree these new features and the beautiful new interface help make Neumz more functional and fun. Take the Divine Word everywhere, in your pocket. The heart of the abbey, in your hands. Tap, "and the door will be opened for you".
We wish to thank the Neumz team, who will shortly have completed this massive project requiring real monastic patience and temperament. And we want to thank you, our users, for supporting our project and the Sisters. We remind you that two-thirds of your subscriptions are destined to support the Sisters in Jouques and their foundations in Rosans, France and Natitingou, Benin.